Updated COVID-19 Safety Guidance
Updated COVID-19 Safety Guidance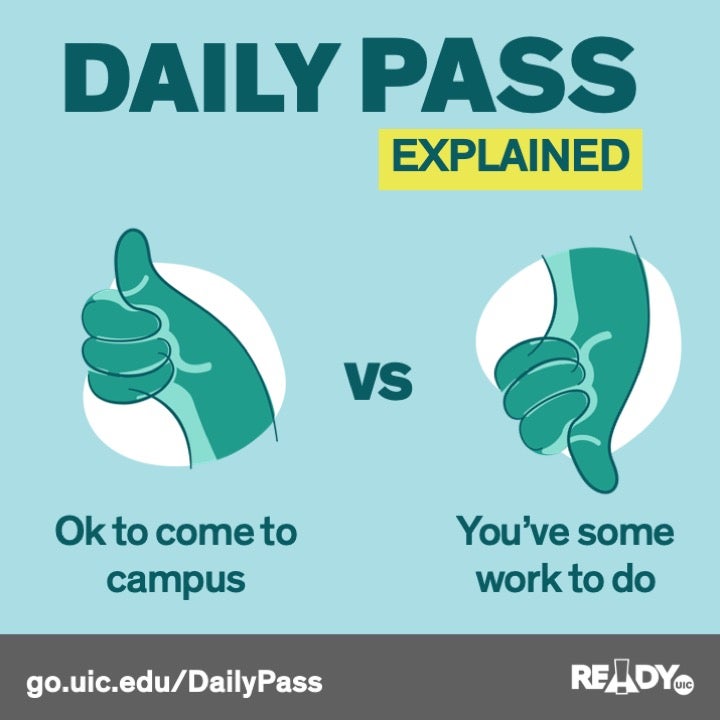 As you know, UIC returned to hybrid learning on Monday, February 8. We have been able to do this because each of you have done your part to reduce the spread of COVID-19 on campus. Even though we have made great strides and are moving forward, this is not a time to let down our guard about the virus.
As we reenter Phase 4 of the Restore Illinois plan and continue our campus recovery, I'm writing to remind you that regular saliva testing and use of UIC Healthcheck and the UIC Daily Pass are mandatory for anyone learning and working on campus.
Before coming to campus each day, you must record your health status in UIC Healthcheck. If you do not have a device to access the tool, your supervisor will record your temperature each day and review your health status with you.
Your current saliva testing status will be indicated in your UIC Daily Pass. As a reminder, a color-coded badge will indicate when you had your last test and serve as a reminder to test again. Badge colors are as follows:
Saliva tested negative in last 7 days = green
Saliva tested negative 7-14 days = yellow
Saliva tested 15 days or more = red
UIC Healthcheck and UIC Daily Pass reports are available to supervisors so they can monitor the status of their employees. Anyone with a red Healthcheck or Daily Pass badge will be required to obtain a saliva test at one of our testing sites or leave campus. If you have any questions about saliva testing, please speak with your supervisor or email COVIDtesting@uic.edu.
I'd also like to again encourage all of you to receive the COVID-19 vaccine when it becomes available to you on campus, at a community health facility, or at your local pharmacy. If you have already gotten the vaccine, you should still adhere to our campus COVID-19 prevention measures and wear a face covering, practice physical distancing, and follow current hand washing/sanitizing procedures.
Thank you again for your support and for all you are doing to keep the UIC community safe as we continue to move toward a return to normal operations.
John Coronado
Vice Chancellor for Administrative Services
Modified on February 15, 2021