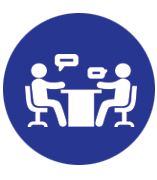 The Counseling Center
Non-Emergencies
Contact
Office Phone:
Related Sites:
About
Address: 1200 W Harrison, Suite 2010
Hours: Monday-Friday 8:00am-5:00pm; evening hours by appointment only.
The Counseling Center is a primary resource providing comprehensive mental health services to foster personal, interpersonal, academic, and professional thriving for UIC students. We provide students with accessible and culturally sensitive, confidential mental health services to promote overall wellness and to help them make the most of their learning experiences. Staff includes psychologists, psychiatrist, doctoral psychology trainees, and social worker.
If you are a faculty, staff, parent, partner, or student who is concerned about a distressed student, the Counseling Center also provides consultation to assist in determining how you might best help.
Counseling Center After-Hours Crisis Counselor
Phone: 312.996.3490, press "2"
Telephone crisis intervention, support, and referrals.