UIC SAFE App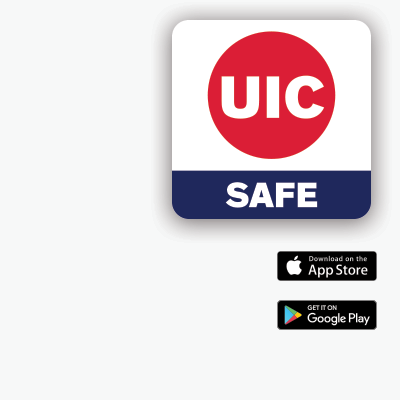 UIC SAFE app is a FREE personal security tool that provides students, faculty and staff with added safety on the campus.
The app's user-friendly interface allows users to easily connect with friends and family to share their location in real-time as they walk. It allows direct and easy contact with dispatchers and first responders in case of emergencies and provides access to easy reporting forms, emergency guidelines and to a comprehensive list of support resources for students faculty and staff.
[NEW!] UIC SAFE Profile

Create a safety profile that will allow UIC Police to contact you and verify your identity in case of an emergency.

Panic Button

Friend Virtual Walk

Report a Tip

Share crime tips or information, and attach a photo or video. Ask questions and get answers from UIC Police. Be anonymous if you prefer.

UIC Police Virtual Escort

UIC Police are on call to keep you safe, monitoring you on a map until you arrive at your destination or hit the "Emergency" button.

[NEW!] Work Alone

Safe Commute

Your options for safer traveling, walking or riding, throughout the campus coverage area. Check your shuttle, request a ride, have a student buddy walking with you, or walk with security (UIC Law-only).

Safety Toolbox

Tools you can use to enhance your safety with tips to review, update emergency contacts, call for counseling, report ice/snow, and more. 

Support Resources

For students and employees, access contacts and resources for assistance so you have what you need to be successful at UIC.

Push Notifications/UIC ALERT

Receive instant notifications, emergency UIC ALERTs, and instructions when on-campus emergencies occur. UIC ALERT integrates with UIC SAFE. This keeps university emergency communication clear and consistent across channels within minimal duplicated effort and additional redundancy.

Emergency Response Guidelines

Know who to call and what to do in a campus emergency. Information at your fingertips, view offline and anytime.

[NEW!] Report Light Outage

Notify Facilities Management of a street light outage or area light not working in this simple, "fill-in-the-blank" form. Includes the option to snap a photo and attach.