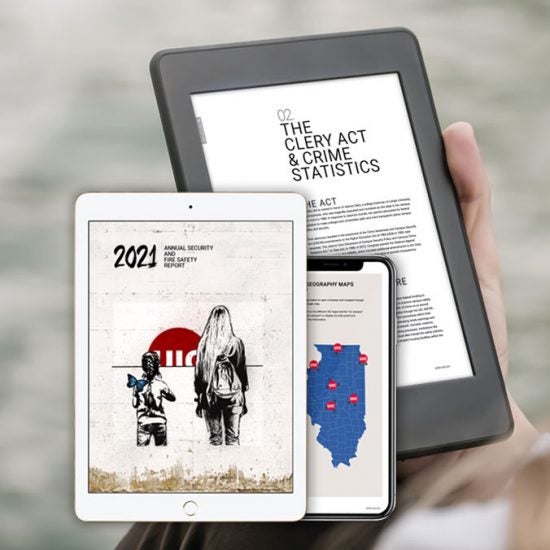 The 2020-2021 Annual Security and Fire Safety Report (ASFSR) highlights the many safety and security procedures, programs, and services available at UIC and our regional health science campuses. Designed to be customized for your reading (or listening) preferences, the 2021 report is offered in multiple formats providing a dynamic reading experience, while interactive content leads you to discover much more than the annual report.
Download the ePUB version today! Have your Kindle or ibooks robot read it to you.
View the Annual Report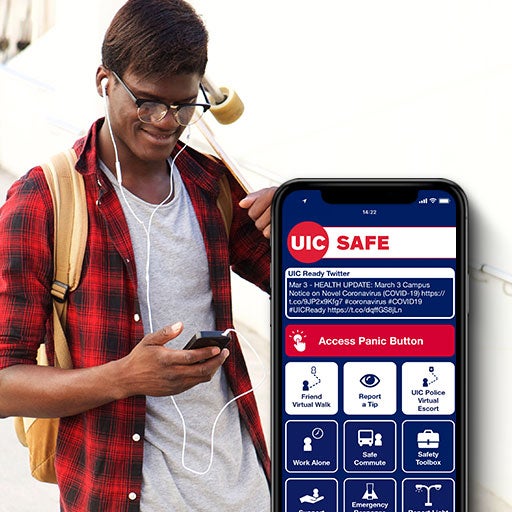 With around-the-clock access to UIC Police, centralized reporting and support resources, several options for a safer commute, and much more, the UIC SAFE App is a one-stop security shop.
There is something for everyone!
Check out our Youtube channel with tutorials!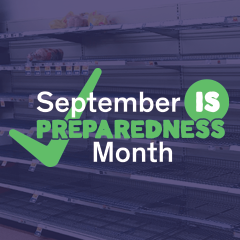 Emergency Management as a Career

As part of our campaign for National Preparedness Month 2021, we engaged subject-matter experts in the field of emergency management to have them weigh in on a few key areas. Our goal is to support increased visibility of EM as a profession (#MakeEMMoreVisible), not only for those who may be studying it at UIC, but also for those who may be considering entering the field.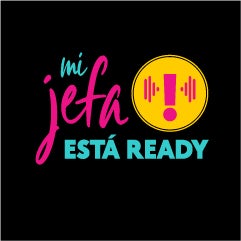 ¡Escucha nuestro nuevo y divertido proyecto de audio experimental! Estas pequeñas cápsulas de audio están dirigidas a personas que hablamos español y presentan contenido sobre salud, seguridad y prevención en una forma en la que probablemente no lo habías escuchado antes.
¡Escucha aquí y diviértete!

Check out our new fun and experimental audio project! The short audio capsules are addressed to Spanish speakers and they present health, safety and preparedness content in a way that you have probably not heard before.
Listen here and have fun! Don't know Spanish? Find the translated transcripts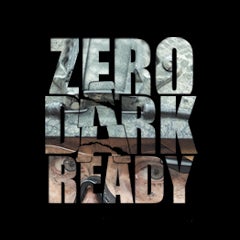 Zero Dark Ready Blog

Emergency planning commentary – publishing actionable information and resources about disasters, pandemics, active threat, and more. Topics range from new active shooter and violence prevention programs in schools, the latest cybersecurity practices changing how we operate, 3 ways to create a more equitable and inclusive emergency management, and much more.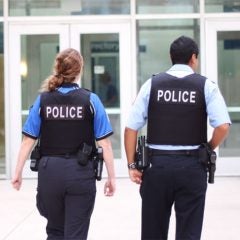 Active Threat Readiness

Active Threat/Shooter incidents are often unpredictable and evolve quickly. Knowing how to respond during an emergency is crucial to your personal safety and the wellbeing of those around you.
Please take a few moments to review actions to take when confronted with an active threat/shooter situation on campus.
Remember your options: EVACUATE, EVADE or ENGAGE.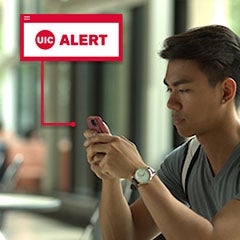 Stay Informed! Sign up for the UIC ALERT Emergency Notifications

Receiving timely information about severe weather conditions or other emergency events affecting the university can make all the difference in knowing when to take immediate action to remain safe.
Need help? That's why we're here!

For information on how the Office of Preparedness and Response can support your unit or department prepare for and recover from emergencies, please call (312) 355-3341

Training and Support

If your unit or department is interested in emergency planning assistance or want to learn more about the UIC Ready training portfolio, please contact ready@uic.edu.

Clery Compliance

If you need assistance with Clery Act compliance or have general questions on campus safety and security reporting, please contact cleryhelpdesk@uic.edu.