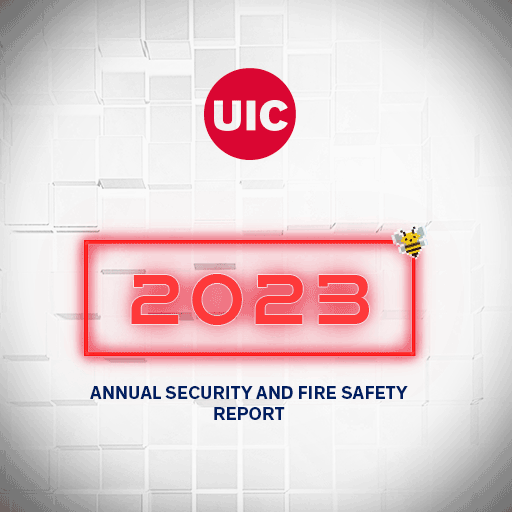 Experience campus safety in a whole new pixelated light with the 2023 Annual Security and Fire Safety Report for UIC. We know safety is never a solo mission, but always a multi-player effort. The foundation of our collective safety relies on personal responsibility, and we must all play our part. Featuring how-to tutorials of UIC safety tools; educational videos, interactive maps and more, we urge you to explore the report and its resources.
We're all in this together: your campus, our safety!
Experience the Annual Report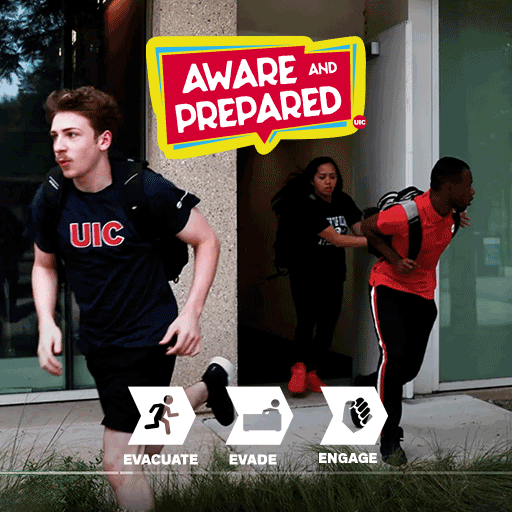 Are you #UICReady? Surviving an Active Threat Event Heading link
The Aware and Prepared campaign is committed to putting U first and designed to educate and empower our community to prepare for, respond to, and mitigate emergencies.
This page offers a selection of active threat preparedness and responses products, tools, and resources, including our new training video to instruct our students and employees on the "Evacuate, Evade or Engage" protocol.
Finding yourself in such a situation can cause extreme panic and disorientation. But if you know what to do ahead of time, your chances of surviving this type of emergency situation are greatly increased.
A prepared UIC is a resilient UIC!
Prepare Now. Learn How
What can UIC Ready do for me?

We prepare for the worst so you can live and learn, at your best.

Preparedness is a group effort that involves the entire UIC community. Whether you are a student, faculty or staff, being #UICReady before, during and after an emergency can save lives. Use the Student Preparedness Portal and Employee Preparedness Portal to get started today.

What can I do to spread the word?

How can I help my peers?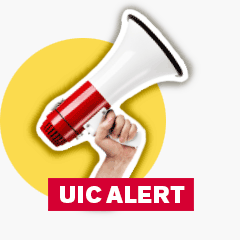 We can't warn you if we can't reach you!

In case of an emergency on campus, UIC's Emergency Notification System will push out a UIC ALERT. By signing up or updating your information, you make sure that you receive the information that you need to take immediate action and remain safe.
ROUND IMAGES - 2023 National Preparedness month Heading link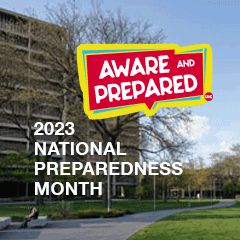 Prepare Now, Learn How for #NPM2023

As part of our campaign for National Preparedness Month 2023, we used Blackboard as a vehicle to delivery campus preparedness education and resources to UIC students. Throughout September, students will find rotating messages and opportunities to learn about importance preparedness and safety resources available to them, including information on active threat preparedness, on-campus emergency call boxes, the UIC SAFE App, Night Ride safe transportation services, theft and crime prevention strategies, emergency communications and reporting, and more.
NACCOP 2019 UIC was awarded the Clery Compliance Program of the Year award by the National Association of Clery Compliance Officers and Professionals for its campus safety programs.

GDUSA 2021 The 2020 Annual Security and Fire Safety Report was awarded GDUSA's (Graphic Design USA) American Inhouse Design Awards in 2021.
A'DESIGN 2021 The 2020 Annual Security and Fire Safety Report won the Bronze A'DESIGN Award in Print and Published Media by the International Design Academy in 2021.

ADOBE 2021 The 2020 Annual Security and Fire Safety Report landed the FINALIST category in the Adobe Creativity Government Awards 2021.