UIC SAFE App
UIC SAFE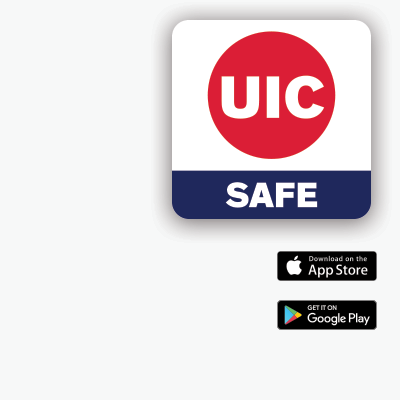 UIC SAFE app is a a FREE personal security tool that provides students, faculty and staff with added safety on the campus.
The app's user-friendly interface allows users to easily connect with friends and family to share their location in real-time as they walk. It allows direct and easy contact with dispatchers and first responders in case of emergencies and provides access to easy reporting forms, emergency guidelines and to a comprehensive list of support resources for students faculty and staff.
Features
Virtual Walk

Ask a friend or UIC Police to virtually walk with you when coming to, or from, class, home or simply walking across campus to get your car.

In case of an emergency one-touch button will notified your friend or the dispatchers with your latest GPS location and, if necessary, the calling function of your devise will call UIC Police.

*To use this feature, you must enable Location Services on your phone

Safe Commute

Access information on transit and commute services offered by the University, such as:

–Campus Shuttle Tracker information on how to call or request a Night Ride.

-Request services from the Student Patrol Escort and the Paratransit Services.

Report a Tip

Through different forms, quickly and securely report any suspicious activity. Forms include the ability to:

-Attach photos or videos and provide details, anonymously if needed.

–Chat live with a UIC Police officer.

-Access emergency and non-emergency reporting forms across campus.

Call UIC Police and Share Location

Call UIC Police and share your location in real-time with the one touch emergency call button.

*To use this feature, you must enable Location Services on your phone

Emergency Response Guidelines

Access the UIC Emergency Response Guidelines even when offline; this is information "out of the binder" and at your fingertips.

Push Notifications / UIC Alert

Receive instant notifications, emergency UIC ALERTs, and instructions when on-campus emergencies occur. UIC ALERT integrates with UIC SAFE. This keeps university emergency communication clear and consistent across channels within minimal duplicated effort and additional redundancy.

Safety Toolbox

Access all important safety resources and student and employee services such as:

-Sign up for UIC Alert.

-Register or update your information for missing student, mental health, and emergency contacts.

-Connect with help and support resources.

-Share your location with a friend through email or check-in with ARC's Safe & Well from the American Red Cross.

-Register your bike.

Support Resources

Consult a broad list of Departamental resources across campus for students, faculty, and employees. Some of the featured departments are:

-Sexual Misconduct (Title IX), Campus Advocacy, In Touch Crisis Hotline, Student Resources, Employee Services and more!

Status

Instantly access changes to UIC's overall operations, so you know your schedule for the day. In case of an emergency, if the status is change to other than OPEN with full operations, you will receive a push notification and you will find further instructions and procedures in this section.
App screens